‧͙⁺˚*・༓☾✨ Welcome to Sixth Sense Kiss Wiki! ✨☽༓・*˚⁺‧͙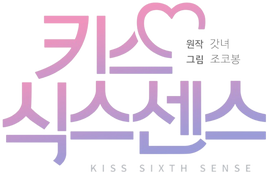 The Sixth Sense Kiss Wiki is a comprehensive database focused on covering Got W and Jocobong's Webtoon, Sixth Sense Kiss. This wiki is a collaborative community that anyone can edit! We have 8 articles, 23 images, 413 edits, and 5 editors. This wiki is likely to contain unmarked spoilers from the series! Read at your own risk!
---
To create a new article, just input the title in the box below!

"Yesul Hong has a secret -- when she kisses someone, she can see flashes of their future. It's hard to believe she's ever met the right guy when she can't even see herself in their destiny. She doesn't get much use out of her ability until one day, when she accidentally kisses her evil boss, Minhu Cha, who's got a secret of his own. To her utter shock, she sees a vision of herself… in bed with him! As if that's not confusing enough, she shows up to work the next day to find out that her first love has been hired to work in her department. Will she be able to survive working with the man she wished had been her destiny and the man she's destined to be with?"
Episode 51
"Episode 51" should be released on Webtoon on May 28, 2022!
Romance Webtoon Wikis
---
Other Wikis
KAKAO

Foxtoon

Ridibooks

KakaoPage

Lezhin

Naver

---